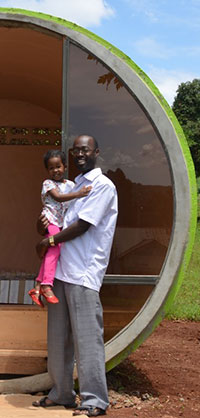 When Mum escaped the 1959 genocide and travelled to Uganda to meet my Dad there, she did so with a baby on her back. Dad was already working on the tea plantation in an area called Toro and later moved to Mityana. Dad left Rwanda before war broke out and travelled to Uganda with many other people as a casual workers. He had left Mum expecting her first baby. When Mum arrived in Uganda for the first time and met Dad, she was holding a young baby boy. At least she had some good news for Dad!! A baby boy, my Dad's first son.
As tradition would have it, Dad had to give a name and so he decided on naming the young boy Nkurunziza which in Rwandese mean 'Good news' (Nkuru-news and Nziza-good).
The dictatorial regimes of the early 1980s took away the 'good news' and replaced it with 'bad news'.
My brother Nkurunziza woke up on a normal day and went to town and never turned up! He was supposed to accompany me to Mityana for safety – Kampala was getting very dangerous at the time.
I want to honour all my amazing U.K friends but also to remember my brothers through my work by bringing good news to so many people.