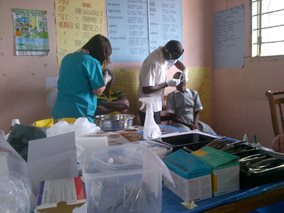 We are developing an Integrated Medical Hub on the edge of Kampala. The area of Maya is desperately in need of local, inexpensive, high quality medical services. Until now the only option for the locals has been to travel into Kampala for medical and dental care, and often this care is at prices that are prohibitive to most, resulting in many people going without care that they very much need.
In Uganda, the main causes of under 5 mortality are diarrhoea, malaria and pneumonia – all issues that could easily be prevented with the right local resources, advice and training for parents. Unfortunately, such luxuries are scarce, and if a mother is able to reach a large hospital in Kampala city she will only be helped if she can pay for treatment, care and any drugs she might need.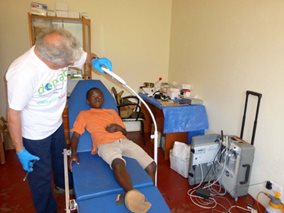 The Medical Hub at Maya will include dental, medical and maternity care for the local community, at prices that are accessible to all. Partnerships are being developed with a number of international medical providers and health professional training establishments, which will result in Maya Medical Hub becoming a location for overseas placements for trainee medical and allied health students.
The Dental project at the Integrated Medical Hub has benefitted from a close partnership with Dentaid, support from The Rotary Club and also from membership of Nkuru-Nziza Foundation into the Uganda UK Health Alliance.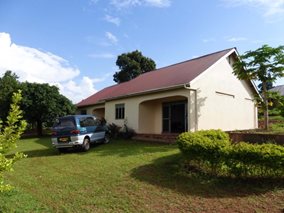 A well equipped dental surgery has been installed and a local Ugandan dentist is employed for several days a week, bringing dental care to the local rural area at local rates. The project also operates outreach clinics to more remote rural areas and shanty town communities.
The work is also supported by volunteer dentists who visit several times a year and are co-ordinated by either Dentaid or Link International Innovation.
Sustainable Health Provision
Innovative and appropriate technology ensures that our health care provision is sustainable.
Working with the local community we train them in preventative strategies that will help their long-term health. We encourage the use of:
Biogas, to reduce respiratory diseases and minimise scalds and burns
Biolatrines integrated with a biodigester, to increase personal hygiene
Roller barrels for water carrying, to reduce skeletal damage in children and provide cleaner, safer water
Many teams and individuals have been involved in the development of the Maya Medical clinic, including teams from St David's College young people and other Link International partners, and also teams from CRED Foundation.
Particular mention must go to Christina Ramsay who, whilst part of a St David's team at 17 yrs of age found that she could not ignore the life-threatening lack of health facilities for women and children living in rural areas. Christina started working with John Njendahayo, to find a sustainable solution and later the same year work began on a project to build a pilot medical centre, with particular emphasis on maternity care, in the Maya area of outer Kampala: the Maya Medical Hub was born.
For more information please contact