The Link Centre, Kampala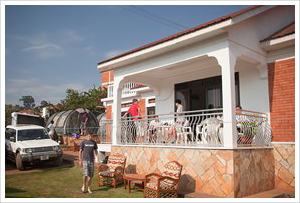 Kampala's north-eastern suburb of Ntinda plays host to The Link Centre. This, John's family home and office, is the base for all Nkuru-Nziza activities in Uganda. Costs are kept very low for visitors, but any profit made is used to enhance the work of the Foundation.
Accommodation comprises two self-contained apartments, as well as rooms within the family home. Guests can be self-catering, although that would mean you would miss out on Sophie's incredibly delicious cooking!
For more information please contact