Jane was one of the first people to receive a loan from the Missing Link Microfinance project when it launched in the summer of 2016. Based out of the house of John's dad, in Bakijjulula near Mityana, where the Nkuru Vocational Training College is now being developed, the microfinance scheme is going from strength to strength, empowering individuals to pursue hopes and dreams in a variety of income-generating ways.
Jane's story is one such case.
Mother of five children, all primary age or below, Jane lives with her husband, Sempijja, in a very simple two-room house made of brick and plaster walls, and a tin roof. When she got her microfinance loan, the first thing she did was buy two pigs, and some chickens. From that she was able to sell eggs, and piglets, and soon the loan had been repaid.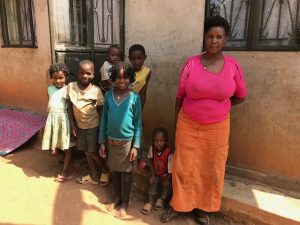 The pigs and chickens continued to serve her and the family well, thanks to her diligence in making sure she knew how to look after them properly, and get the best output from them. After careful budgeting and diligent saving Jane and her husband reached the stage where they could invest in the next stage of their plans to reduce expenditure: rainwater harvesting.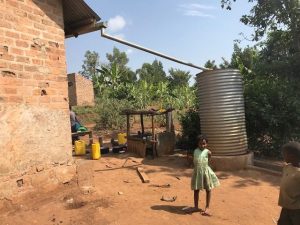 By investing in guttering and a water tank, and making sure the roof was in good shape, they now have water on tap, rather than having to either walk a considerable way to get water from the borehole (and in so doing using time that then can't be spent doing other tasks), or pay someone to go and get the water for them.
But that wasn't the end of 'pig and chicken' microfinance success story. Following more careful saving and good budgeting, and a microfinance loan taken out by her husband, the family now have a small solar panel on their roof, which, thanks to the intensity of the Ugandan sun, produces enough power each day to light up their evenings with solar-powered light bulbs, and also has enabled them to buy a television. No more kerosene lamps for this family, insights into the world beyond through the ability to watch television and another bill now a thing of the past.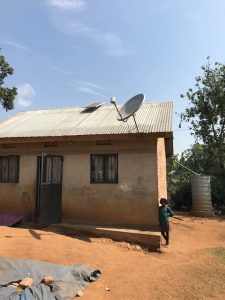 The most recent new enterprise has been to buy some rabbits and start breeding them for sale as a food item. With just one breeding pair to start them off, the speed at which they are reproducing, combined with Jane's diligence in getting the most out of every task that she takes on means that they will soon have the new loan paid off, and even more money coming into the family.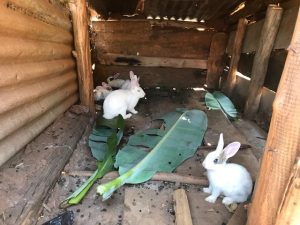 The story of Jane and Sempijja and how they have made such wonderful use of the head start that the microfinance gave them is really great to hear, and see in action. It is proof that for many it's not about the handouts, and the waiting for people to do everything for them; it's about the hand ups, and just being given the opportunity to make big inroads into turning their own lives around,
For them it doesn't mean upgrading the house, splashing out on lots of unnecessary extras, or getting caught up in materialistic pressures, but it does mean that they will fulfill their dream of having enough to put the children through school, and maybe even university when the time comes.
Long may those opportunities continue to come into being.